We can not wait until we move into our home and have our OWN back yard!!!!!!! We are already dreaming and making plans for our landscaping and patio :) Here are our patio ideas:
Chad already made me an outdoor sectional out of pallets! ..That we got for FREE!! Hehehe! :)
Sorry about that horrid shadow and all the ugliness in the background....
Now I need to make some seat cushions for them!! And buy these cute pillows at Home Depot that I have had my eye on for awhile (hoping for a sale...!)
We also have some left over pallets, so my most wonderful Hubby is going to make me a coffee table like this one I found on Pinterest! ..of course ;)
Isn't so cute!! I want to paint mine white too!
We also want to build a brick or stone patio in our backyard and the Chad is going to build a cool Pergola to enclose the area!
I also want to hang some curtains on it so its pretty and fresh looking like this:
And to finish it off we are going to get a firepit to put in the corner; I'm really diggin' this one from Kmart, and it's fairly priced!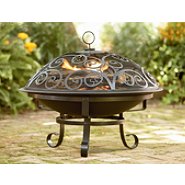 Well, there is my design board for our patio! :) I cant wait to have it all done in just a few months!!!!